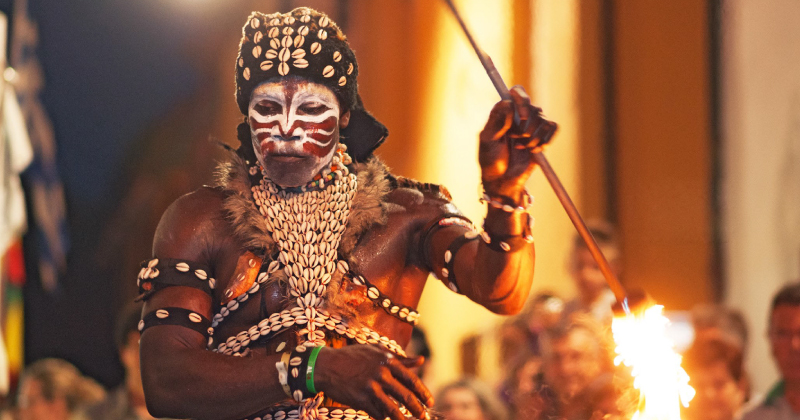 L'VIII edizione del Popoli Pop Cult Festival è stata interamente dedicata a "I colori dell'Africa". Grazie a questo evento, nel 2016 Bagnara di Romagna è diventata centro nevralgico nell'ambito del "Programma Pace e Diritti Umani della Provincia".
Questa posizione è stata testimoniata anche dalla presenza del Presidente della Regione Stefano Bonaccini, dell'Assessore Regionale alla Cultura, Massimo Mezzetti, del console amministrativo della Repubblica Sudafricana, Sig. Mzi Mpiyakhe e dagli oltre 15.000 visitatori presenti.
Cucine e spettacoli
Come di consueto ad attendere il pubblico gli appuntamenti espositivi e gastronomici con le cucine di ben 18 differenti paesi. Il calendario degli spettacoli, fitto come sempre, si è aperto con le esibizioni dei gruppi Mariachi Romatitlán e Ruben Rojo y Pennabilli Social Club nel palcoscenico centrale di Piazza Marconi. È proseguito poi con concerti di musica popolare, spettacoli di danza e varietà in cui la moda etnica, le danze e i viaggi si sono fuse per offrire uno spettacolo a tutto tondo e mostrare la bellezza e la capacità creativa dell'Africa.
La Via dei Buskers e le mostre
NovitĂ  dell'anno la "Via dei Buskers" allestita presso via Bacchi con spettacoli di strada, e la partecipazione straordinaria di Simb, l'Uomo Leone del Senegal.
Tre le mostre allestite quale approfondimento culturale dell'evento: "Benin: architetture di terra (Atout Africanarch.it_onlus)", percorso espositivo dedicato alle architetture del Benin e "From Pyramids to Spacecraft: Architecture and Visions" incentrato sulle soluzioni innovative per applicazioni aerospaziali e terrestri, entrambe allestite presso la Sala Consiliare della Rocca Sforzesca.
Al bar della rocca, la mostra fotografica "Tributo a Nelson Mandela: InvictusEx" con la presenza di opere pittoriche di Marcia Rocha, Antonio Mendes e Vittoria Graziani.
Nell'ambito del Festival è stata organizzata anche la terza edizione di "ESTEMPORANEA D'ARTE" divisa nelle tre sezioni di fotografia, pittura e scultura.