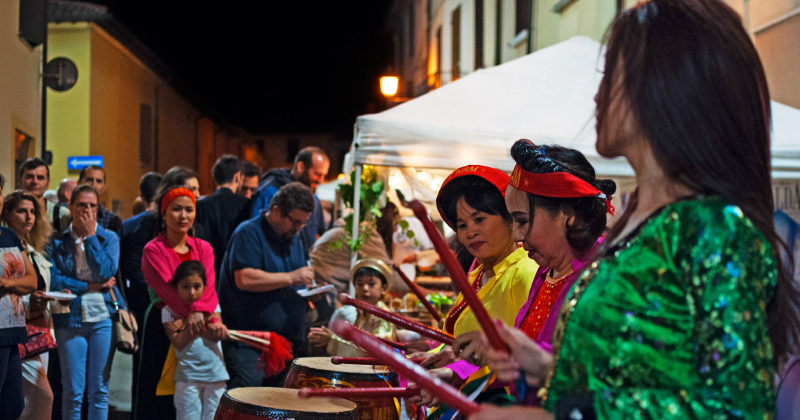 Tema conduttore della IX edizione di Popoli Pop Cult Festival di Bagnara di Romagna è stato "Terre di Zar", con il quale l'evento ha dedicato un'attenzione particolare alle immense terre dall'Europa all'estremo oriente, culla di una cultura profondissima, palcoscenico affascinante di incontri e di scontri fra popoli.
Come di consueto, si è trattato di una full immersion nelle differenti culture culinarie attraverso gli stand gastronomici gestiti da cuochi originari dei molti paesi rappresentati, affiancata da una ricca attività espositiva.
Musica, canti e danza
Nei tre luoghi di Piazza Marconi, Rocca Sforzesca ed Ex lavatoio il programma degli spettacoli si svolge con proposte di grande impatto che riescono a fondere le diverse componenti di musica, canto e danza accordate sotto il segno della eccezionale carica visiva degli abiti tradizionali. Tra i tanti protagonisti, lo spettacolo di musica e danza slava "Dal Danubio al Volga" degli "Ensemble Troika", il tango argentino dei DelBarrio, i canti khuumii dei KhukhMongol, lo spettacolo Makumbero, la parata dei Corretto Samba, e le sonorità dei "Jedbalak" dedicate alla grande tradizione musicale degli Gnawa del Marocco. A condire il tutto le numerose performance dei Buskers presso gli stand e lungo le vie del borgo.
Le mostre ispirate alle terre dell'est
La proposta espositiva di quest'anno valorizza gli aspetti più caratteristici delle immense terre dell'Europa dell'est attraverso la mostra "La bellezza rivelata: il mondo delle icone", curata dall'importante iconografo e artista Giancarlo Pellegrini ed allestita nella Sala Consigliare. Nel medesimo spazio espositivo troviamo  "Natura estrema" con il docu-video di The Breath of the Tundra di Mikhail Gorobchuck e gli scatti di Monica Liverani dedicati al Kazakistan. Sala Sant'Apollinare, che si apre al fianco dei giardini pubblici, ospita le due esposizioni "Ricami in Vetro" di Kina Bogdanova, e "Paesaggi russi", con dipinti di Galina Lobanova. Altri due eventi espositivi occupano il Torrioncello: al piano terra "E la chiamavamo Russia…" mostra d'arte e fotografia ispirata ad alcune città simbolo dell'ex Unione Sovietica con opere di Roberto Dovesi e Andrea Scaranaro e al primo piano "Scatti di umanità ", di Alice Bandini, con immagini di vita dal Nepal.
Al Villaggio Brasile è allestita la mostra fotografica di Carlo KakaTiocarlao, "Volti e colori del Brasile" ed infine, nei giardini pubblici vicino al nuovissimo stand "Vini dal Mondo", il percorso espositivo "Il nettare degli dei. Breve storia del Vino".